The Netherlands took a different path in the fight against coronavirus.
How effective it is and what is behind the theory of "collective immunity", the opinion of Gregory Pasternak, member of the European Jewish Parliament, Netherlands.
We, the inhabitants of the Netherlands, feel a little strange, there is internal panic, but there is also an understanding that we are moving contrary to the policies of other countries. In the fight against coronavirus, our government acts differently than other countries. It officially adheres to the theory of collective or group immunity. According to it, the most stable part of the population, the maximum number of people should be infected, in order to form a kind of "protective wall" for the elderly and weak people, who prior to that should be isolated.
"We can slow down the spread of the virus and at the same time form group immunity, under control" said Prime Minister Mark Rutte in his address to the nation.
The idea is the following: we want to control the spread of the virus among those who have few problems with it.
I am not very sure that this is a successful idea. We do not have enough knowledge about the logic of this virus, without significant measures, the situation in hospitals can get out of control.
Let's do some simple math. Today in the Netherlands there are a little more than 1 thousand beds in intensive care units with a population of 17 million people. To form group immunity, at least 60% of the population must be infected. At the same time, according to immunologists, the number of people who died from coronavirus will be in the Netherlands from 40 thousand to 80 thousand people. That is why I am skeptical about the group immunity.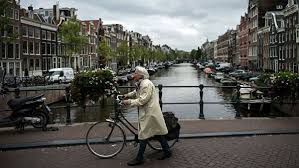 And now about the situation in the Netherlands on March 23
– officially confirmed cases 4204, of which 179 were fatal (all people over 59 years old)
– until April 6, everything is closed, except for supermarkets, bakeries, pharmacies, coffee shops and partially cafes/ restaurants but only for take-away
– all major upcoming events, including Eurovision, part of Formula 1, the celebration of King's Day have been canceled. Keukenhof flower park is still closed until April 6
– The borders of the Netherlands are not closed. EU borders are closed. But EU citizens are free to enter / leave the territory of the Netherlands
– There is no official quarantine. No one is forced to sit at home. But at the same time, a lot of people went to self-quarantine and voluntarily sit at home as much as possible
– Stores are starting to introduce separate hours for the elderly. In Albert Hein, for example, every day (except weekends) from 7 to 8am shops will be open only for senior citizens.