EJP is seriously concerned about antisemitic symbols used to illustrate Israeli-Palestinian conflict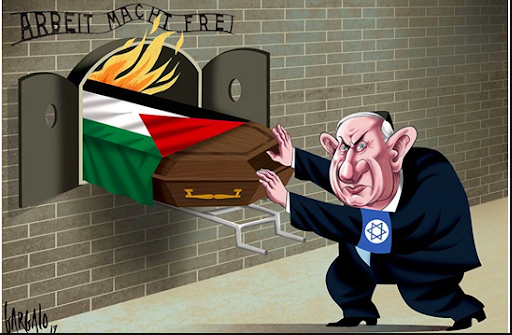 A Jewish group dedicated to human rights has accused Portuguese cartoonist Vasco Gargalo of anti-Semitism after he used antisemitic symbols to portray the Israeli-Palestinian conflict.
EJP condemned the publication of the cartoon and several Jewish digital publications and pro-Israel groups asked that the illustrator be fired from the media with which he collaborates regularly.
Alexander Zanzer, EJP Vice President is seriously concerned about this incident:
"Antisemitism has become "salon fähig"; acceptable by many Europeans in intellectual circles as was the case in the '30. Critic on Israel is in those cases a covert way to express their antisemitism. Golda Meir has said: all those people would be happy to cry if Israel would disappear. The way Israel is pursuing its strategy and receives praise by strength and acceptance by action is the only way and proves effective in convincing the Arab states to not only accept its existence, but also to forge alliances that could eventually stabilize the region on its own without that it becomes a battle field for foreign powers. Europe plays no role whatsoever in the peace process. This frustration of European leaders and the fact that a Jewish State has acquired economic power and military supremacy in the region leads from jealousy to traditional antisemitism. Better jealousy than pity. The jewish people must follow the example of Israel and become as strong as their eminencies see them.
"O Crematório", a cartoon designed by Gargalo and published on the Cartoon Movement platform, illustrates the presentation last week of US President Donald Teump's  peace plan.
In the cartoon, Israeli Prime Minister Benjamin Netanyahu – who appears with a kippah on his head and an armband with the Star of David – pushes a coffin covered with the flag of Palestine into a crematory. On top of this, one can read ''Arbeit Macht Frei'', the inscription at the entrance gate to the Auschwitz death camp, used by Nazi propaganda to trivialize extermination camps, suggesting that they were intended for re-education by forced labor.